Definition of Numismatics and Numismatists
Numismatics is the scientific study of currency and its history in all its varied forms.
So that makes a numismatist:
a specialist in numismatics.


a person who collects numismatic items, especially coins.
Congratulations! You are now on your way to a whole new world of knowledge. You have taken the first step in becoming a true numismatist by increasing your knowledge of coin collecting terms.
Numismatists Are as Unique and Varied as the Coins They Collect.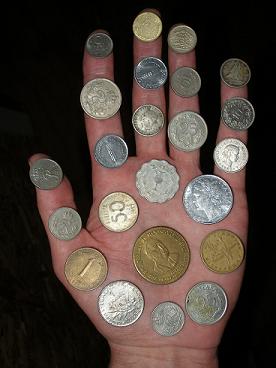 They come from all walks of life.


They come from all parts of the world.


They come from all income levels.


They come from all age groups.
But Numismatists do have one thing in common - they share a love for the unique and beautiful coins of the world.
They have a hunger for history and art. Where else can you find such a beautiful piece of art that you can hold in the palm of your hand?
But coins are not just a piece of art. Right in the palm of your hand is a whole chapter of fascinating history!!
Numismatics in History
The history of coin collecting goes way back to the sixteenth century! One of the first known coin auctions was held in Leyden, Holland in 1598.
And while the history of coin collecting itself is fascinating, learning about the history of each individual coin can be just as rewarding. Coins have been minted for more that 2,500 years, so you will never run out of interesting coins to add to your collection.
And you will be in good company. People such as John Quincy Adams, Cornelius Vanderbilt, Enrico Caruso, Theodore Roosevelt, Buddy Ebsen, Chris Schenkel and Wayne Gretzky were all coin enthusiasts.
---
Now that you have learned the meaning of these terms, you are one step closer to knowing all about coin collecting.
Wasn't that was easy! And learning about coins and coin collecting is just as easy! It just takes some time to learn some new words and terminology and eventually, how to grade and value your coins.
It doesn't have to happen over night, however, so just take your time and have some fun learning.
And be sure to check out The American Numismatic Society (ANS). It was founded in 1858 in New York and has a collection of over 800,000 objects dating back as far as 650 BCE. It also has 100,000 books, documents, and artifacts in its library.
---
My Recommendation!
Don't forget to visit
Amazon
to get your very own Kindle e-reader and a variety of
Books about Coins
.
That way you can take all of your coin books with you where ever you go.
I love my Kindle Fire
! I highly recommend them to everyone!
I know that any time I see a coin at a flea market or coin shop or anywhere else I happen to be, all I have to do is check it out in one of the many books on my Kindle Fire. That way I can refresh my memory at any time and know for certain when I am getting a good deal on any coin.




---