20 Cent Piece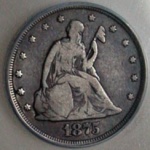 The 20 Cent Piece is a twenty cent coin made by the United States Mint beginning in 1875 and ending in 1878, one of the shortest mintages in U.S. History.
The coin was made in an effort to export more silver as other countries at the time preferred a coin that was 20/100 denomination rather than the 25/100 denomination of the United States Quarter.
Even today, a lot of countries have coins that are 20/100 denomination rather than the quarter dollars that Americans are so familiar with, including Euro coinage.
The Twenty Cent Piece only saw production for general circulation the first 2 years of minting (1875-1876) with only proofs minted the remaining 2 years (1877-1878).
This twenty cent coin was causing a lot of confusion and was highly criticized because it was so similar to the quarter dollar also circulating at the time.
The Twenty Cent Piece and the quarter both had the Liberty Seated design on the obverse (front) of the coin and very similar eagle designs on the reverse. They also had very similar composition and size.
Citizens complained that it was necessary to read on the coin to determine whether they were holding a 20 or 25 cent coin without a side by side comparison of the two.


---
Twenty Cent Piece (1875-1878)
---
(click image for larger view)
Twenty Cent Piece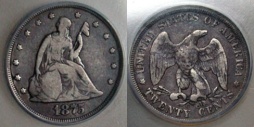 Type
Liberty Seated Twenty Cent Piece
Designer
William Barber
Years Minted
1875-1878
Weight
5 grams
Composition
90% silver, 10% copper
Diameter
22 mm
Edge
Plain
Mints
Philadelphia - no mint mark
Carson City - CC
San Francisco - S
Mintage
Philadelphia
Carson City - CC
San Francisco- S
1875
36,910
(2790 proofs)
CC - 133,290
S - 1,155,000
1876
14,640
(1260 proofs)
CC - 10,000
S - 0
1877
0
(350 proofs)
CC - 0
S - 0
1878
0
(600 proofs)
CC - 0
S - 0
Most of the 10,000 20 cent pieces minted at the Carson City Mint in 1876 were melted down and never released into circulation.
It is estimated that only about 12 to 20 of them still exist.
---
My Recommendation!
Don't forget to visit
Amazon
to get your very own Kindle e-reader and a variety of
Books about Coins
.
That way you can take all of your coin books with you where ever you go.
I love my Kindle Fire
! I highly recommend them to everyone!
I know that any time I see a coin at a flea market or coin shop or anywhere else I happen to be, all I have to do is check it out in one of the many books on my Kindle Fire. That way I can refresh my memory at any time and know for certain when I am getting a good deal on any coin.




---