Coin Grading Services:
Who They Are and What They Do.
Coin Grading Services are objective third party companies that grade coins according to recognized industry standards.
Example of PCGS Coin Slab
aka "Certified Coin"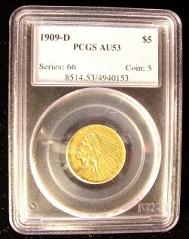 They then place the coin in a sealed heavy plastic case along with an insert describing the coin's grade. This is called "slabbing" by the coin collecting community, and the result is a "certified" coin.
Coin grading services came about as a result of the coin collecting community's need of an objective third party to settle disputes over the grading of coins.
When one dealer would assign a certain grade to a coin and another dealer considered the coin to be a grade higher or lower, it made doing business difficult, especially for rare coins where the difference of a grade or two could amount to thousands of dollars.
Once these companies became established as reliable in their grading, however, even rare and valuable certified coins could be bought and sold sight unseen.
These coin grading companies became the tie breaker, so to speak. And these companies grade coins in much this same way.
A coin that is submitted to be graded will be independently evaluated by a panel of experts. If the first two experts disagree on the grade, a third will grade the coin. If this expert agrees with one of the first two, the coin receives that grade. Then this grade is often times verified by yet another expert.
---
United States Coin Grading Services are divided into 3 main tiers by numismatistsNumismatics
The scientific study of currency and its history in all its varied forms.
Numismatist
A specialist in numismatics. A person who collects numismatic items, especially coins., based purely on the coin collecting community's perception of their reliability.
In the top tier you will find PCGS and NGC (more about each below). They represent the "gold standard" in coin grading.


Second tier companies include ANACS and ICG. They offer reliable authentication, but they seem to have looser standards for grading.


Third tier companies are considered by most to be mostly unreliable and inconsistent in their grading practices. They include almost every other company not listed above.
There are more coin grading services in this third tier than you can shake a stick at, but few are considered reliable by coin dealers and collectors, thus the certified coins from these companies will have lower market value than coins from the four major coin grading services listed above.
For example, if you are selling a coin that is graded AU58 by one of the top four companies, that coin would bring the market value for that grade. However, if the same coin had been graded by a lesser known and trusted company, the coin would, in all probability, be discounted by one or more grades.
As I stated earlier, there is nothing official about the three tier system. It all depends on who you are speaking to. Some people will put ANACS in tier one rather than tier two.
It is all a matter of opinion but it can make a big difference in the market value of a coin in the United States if it is NOT graded by one of these top four grading companies (PCGS, NGC, ANACS, or ICG).
These companies have withstood the test of time. They have proven themselves by sticking closely to the American Numismatic Association's (ANA) standards of grading.
The Four Major United States Coin Grading Services Are:
You can ask almost anyone in the coin collecting community and they will most likely agree that these are the top four coin grading services in the United States.
Certified coins that have been graded by one of these companies will bring top dollar. That doesn't mean that you should not own a coin that has been graded by another company. You should just keep in mind as you are purchasing, that coins from other than these top four companies will not have as high of a perceived value for the simple fact that numismatists do not have the same high level of trust in these companies.
Here is another thing to keep in mind. Don't always depend on the grades given by a coin grading service. No one is perfect and mistakes happen, even in grading coins. You need to learn to grade coins yourself. Read books and ask questions from a dealer or mentor you can trust.
Experience and knowledge are your best friends.
Take your time and learn all you can about coin collecting and grading. The more you know, the better deals you can make on coins and the quicker your collection will appreciate in value.
Don't wait until you have learned all there is to know to start your collection, however. Start saving odd or interesting coins now and watch your collection grow. Just be cautious about spending large amounts of money for certified coins without consulting a dealer or mentor you can trust.
Coin grading services have definitely changed the coin collecting industry. Even though these services are not perfect and mistakes are made, having an objective third party to grade coins has stabilized the coin collecting industry, and they are here to stay.
---
I have been informed by a visitor to this site that I should point out to my readers that this article refers to United States Coin Grading Services. She is right! Changes have been made to the wording on the page to reflect that. My apologies to all.
My Canadian visitor also informs me that Canada has two highly reputable grading companies: CCCS and ICCS
Thank You Pamela!
---
My Recommendation!
Don't forget to visit
Amazon
to get your very own Kindle e-reader and a variety of
Books about Coins
.
That way you can take all of your coin books with you where ever you go.
I love my Kindle Fire
! I highly recommend them to everyone!
I know that any time I see a coin at a flea market or coin shop or anywhere else I happen to be, all I have to do is check it out in one of the many books on my Kindle Fire. That way I can refresh my memory at any time and know for certain when I am getting a good deal on any coin.




---